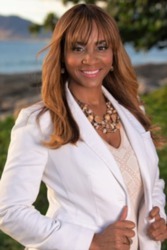 Martina, a Michigan native and former US Navy service member, is an exceptional Realtor with over 10 years of experience in the real estate industry.  She received serval college degrees to include a Bachelor's degree in Business, and a certification to become a life coach where she ran a successful life coaching business.  Working for several fortune 500 companies and one of the largest global banks she brings a wealth of knowledge and expertise to her real estate career. After moving to Hawaii she's landed her dream career and found her passion in helping families find their dream home.
 Martina's professionalism shines through her dedication to assisting the families she serves.  Utilizing her expertise in providing outstanding customer service she has assisted numerous families in finding their dream homes.  She is committed to going above and beyond to deliver remarkable results and exceeding her client's expectations.
If you are seeking a Realtor who will listen attentively, collaborate closely with you, and ensure your real estate needs are met, don't hesitate to contact Martina today.  Partnering with her will provide you with a seamless and exceptional real estate experience.